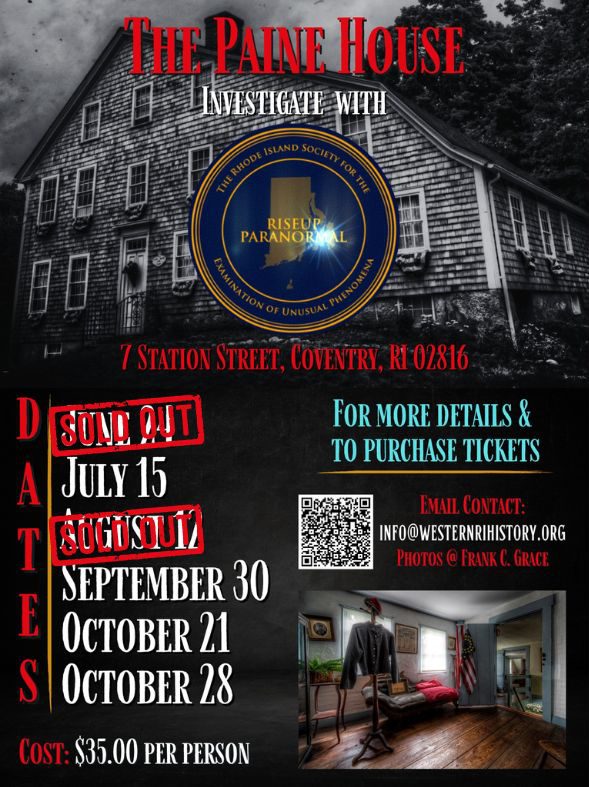 The RISEUP Paranormal Society is a Rhode Island – based volunteer organization with affiliates in Massachusetts, Connecticut, New Hampshire and Maine that specializes in the investigation and assessment of paranormal claims within the realms of Hauntings, UFO experiences, and Cryptozoology. Our teams are comprised of experienced and educated adults from diverse professional backgrounds in historic and archaeological research, psychology, photography, the defense industry, education, health care and electronic and structural engineering, to name but a few.
Having done both private and public investigations at the Paine House Museum beginning in 2010, it has become clear through actual documentation and research that the location is that rarest of places that could be called "active" in terms of the paranormal. The sheer amount of unexplainable phenomena there that has presented itself both to ourselves and our guests has been nothing short of staggering. To that end, the Paine House has become a destination spot for those invested in or curious about the realm of the paranormal. So much so that Paine House has been featured on the Biography Channel's 'My Ghost Story' and Amazon Prime's 'The Oddity Files' along with numerous regional TV shows.
While we endeavor to continue our research into its supernatural aspects, we do so with the utmost respect for the location and its "inhabitants" while placing strong emphasis on its historic significance not only to the town of Coventry, but the entire state of Rhode Island. Having investigated over 1,000 locations including private homes and nearly 50 on the National Register of Historic Places, the Paine House stands out among the most fascinating we have ever visited.
Upcoming RISEUP Events
Contact us for more information at:
info@westernrihistory.org